Weekly SMART Meetings
We were about to begin our first SMART Recovery meeting before Covid-19 happened. We will resume providing a weekly SMART Recovery Meeting and weekly SMART Recovery Family and Friends meeting when it is safe to resume in-person meetings.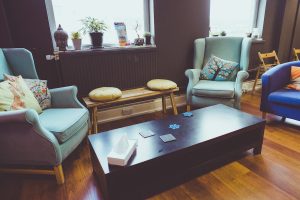 Recovery Meetings
We also expect to continue hosting the Recovery Cafe once we can resume meetings again. 
Monthly OCD Support
A monthly OCD Peer Support Group will continue when it is safe to return to in-person group meetings.
Find Support Online
We are excited to be launching an Online Community App thanks to the National Lottery Players! It is a free app where you find support groups and self-management tools without having to give up your Facebook identity. It's a safe supportive environment to connect support and inspire one another. There will also be free weekly Yoga Nidra available for all!