Adjusting to a New Normal
by Alice Gall
Where do I begin? A couple of weeks ago I was joking about panic-buying wine and chocolate. I was seeing friends and walking my little boy to nursery. Now I look out of my window upon an eerily silent street, I have a child who misses his pals, and a long day ahead. My phone relentlessly spews bad news.
Responding to the spread of coronavirus, the government instruction for us all to cease non-essential social contact has fundamentally changed our lives. With the closure of schools, family life has been turned upside down.
Personally, I am very fortunate. My loved ones are healthy. I have a safe home and food on my shelves. But like countless others, I am stuck in limbo with my family; sleepless, anxious and sad. However, I feel like there are even tougher times ahead, so I'm getting my head and my house in order, ready for whatever comes next.
With a young child to take care of, it's daunting to consider the weeks ahead. It feels like the start of the school holidays but with all day trips, play dates, and fun activities banned. And don't even mention home schooling! Did two words ever strike such fear into the hearts of parents all over the world?
The one thing that under difficult circumstances always helps me calm down and cheer up is getting out of the house. Fresh air and exercise are like medicine for my mind. But right now, we are limited to one form of outdoor exercise a day, alone or with a member of the household. James usually loves a visit to the playground but now we're having to think of other options.
Our garden is the s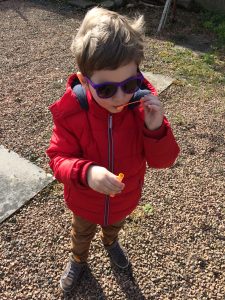 ize of a postage stamp but that didn't stop James and me heading out there this week to kick a ball about, and blow bubbles. As James giggled and played, my spirits began to lift. The weight I felt on my shoulders suddenly seemed a lighter, easier load, and my four-year-old was able to be … well … a four-year-old. Happily, our brief outdoor excursion also tired James out to a more manageable category of hurricane.
A few short weeks ago, James and I were often involved in group fitness activities. We enjoyed woodland walks, junior parkrun, weekly swimming lessons, and we both love Scotland All-Strong's Toddler Yoga classes. All these options are currently unavailable, but a plethora of fitness and wellbeing classes are going online. James and his dad have been trying a morn
ing workout together, and the fun they have with this is lovely to see. Locally, Andy and Jess at Scotland All-Strong are also going virtual – bringing some familiar Toddler Yoga rhymes to our living room.
With increased time at home, my family is having to make many changes. James is really too young to understand what's going on, beyond knowing that there's a 'bug' going round (I suspect he imagines a pesky, multi-legged creature knocking on doors). We limit dinnertime conversation to cheerful topics but even so, my wee boy seems a bit unsettled, perhaps a bit more emotional than usual. I'm trying to pay attention and really listen to him when he speaks. It's hard, when my thoughts are scattered and he's endlessly recounting the adventures of his invented superhero 'Crackman'!
I have been listing activities that James might like to try in the coming weeks. It's not so much a schedule as a resource I can turn to in place of pulling my hair out. Inevitably it includes my personal kryptonite – arts and crafts. Quite frankly, it takes house arrest to persuade me to build a papier-mâché volcano in my kitchen. Yet, here we are. I cope better with James drawing, painting, cutting and gluing. Lots of kids are sticking pictures of rainbows up in their windows. We tried this and it was a great success. Yes, my floor looks like a paint bomb hit a glitter factory, but James was engrossed.
With a small child in the house there is no chance of me being bored. I think parents are more at risk of trying to do too much. Already, I find my energy flagging; I was hoping to keep James away from the telly in the mornings at least, but let's see how long that lasts!
As yesterday wore on, I ditched some of the cool indoor activities I had planned for James. This isn't a sprint, it's a marathon, and I need to adjust my pace accordingly. Making a guitar from cardboard and elastic bands can wait. As another day in this strange new world drew to a close, we simply read a book and had a cuddle.
Alice Gall
for Scotland All-Strong