Keeping Fit and Staying Connected
Here we are, a couple of weeks into the longest school holiday in history. I still sometimes find myself looking around in astonishment, unable to fully absorb the situation we're in. I mean … what just happened?
After the schools closed I put on my best game face but sleep evaded me and I'm sure my hair turned whiter every day. Now we're starting to settle down to business, and I've been cracking on with life at home with my partner and our little boy. Rest assured I'm no expert at this – I'm currently eating Caramel Nibbles by the fistful and I've got repetitive strain from checking my phone. But if you're struggling to figure out family life in this strange new world, perhaps my efforts will give you some ideas, or just some light relief.
First off, there is no shortage of fitness options right now. You've no doubt already welcomed Joe Wicks, 'The Body Coach', into your living room, and all proceeds from his morning workouts for kids are going to the NHS. My wee boy's attention sometimes wanders during these half-hour sessions but he gets on well with the shorter alternatives on Joe's YouTube channel. James also adores 'Andy's Wild Workouts' on CBeebies.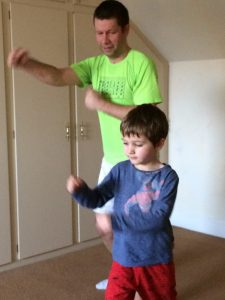 For children missing their weekly get-together at Junior Parkrun, there is now a workout every Sunday at 9am on the Parkrun YouTube channel. James and I tried the first one; it was a good warm-up, and funny too. We've also discovered our dancing feet with the upbeat kids' dance classes from Oti Mabuse. Each of these has a theme – Jungle Book, Aladdin, Mary Poppins, and so on – and James enjoyed being Shrek. With live streams, we often catch up after the event, when it's convenient, although participating at the same time as others can help you feel more connected.
Closer to home, Live Active Perth has come up with the goods and provided a ton of resources on their homepage with ideas to keep us all healthy, both physically and mentally. There is a great section particularly aimed at youngsters. Local business Rugby Nippers is also keeping busy, with Zoom sessions for children on Saturday and Sunday mornings. Check out their Facebook page for further information. The Bike Station in Perth is re-opening for sales and minor repairs allowing you to get active on an affordable, high-quality refurbished bike. And Scotland All-Strong has launched its brand new YouTube channel with yoga and guided relaxations available to soothe body and mind as well as active content for children including Kids Yoga and Toddler Yoga songs and rhymes.
If you feel that your child's brain cells need a little exercise, La Jolie Ronde is continuing its award-winning language classes online. In Perth, Cheryl Strange offers these French lessons for little ones (James loved her classes) and is moving onto Zoom. The new term starts after Easter and details are on the Facebook page Lingo Folk Perth. For older children in the house, it's worth investigating The Coronavirus Time Capsule from Company Three. This is a free project designed to video record teenage experiences during the pandemic and Horsecross are getting involved. To join in, contact [email protected].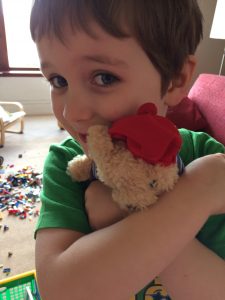 With so many home videos online, is it just me who appreciates a sneaky peek inside other people's houses? But the great outdoors is still there (for an hour a day anyway) and often James and I head outside for our daily exercise. We've been livening up our walks by spotting the beautiful
rainbows
so many of our neighbours have put up in their windows. One day James counted 26 and was chuffed to bits. A worldwide
teddy bear hunt
means that our furry friends have joined the party; cuddly toys are also being placed in windows to amuse passers-by.
Many people in our community are facing real hardship at the moment. Perth and Kinross Foodbank has requested that donations are made at its designated supermarket drop-off points. Please look at the website for full details and for a list of urgently needed items. Give and Take boxes are popping up across Perth, where tins and dry food can be donated, and used by those in need. And don't forget to clap and cheer from your window or front door for our NHS workers – you could do this anytime(!) but it will be happening all over the country on Thursdays at 8pm.
As another week draws to a close, it feels like we have good reason to be hopeful. In spite of our 'isolation' we may come through this experience more connected to one another. Fitter, maybe? More grateful, and ready to share what we have. Our children might not thank us, bouncing off the walls as we negotiate home schooling and battle through cabin fever. But perhaps they will not only learn to cope in these difficult circumstances; they may begin to thrive.