Smarts and Crafts
As lockdown continues, I seem to be adopting the moods of fictional dwarves. I was Grumpy in week one, Happy in week two, and Sleepy by week three. With normal routines thrown out the window, it's only natural to experience some peaks and troughs in energy. Caring for a young child, with no respite available from nursery or extended family, can be hard work.
I've always taken a fairly determined 'Let's get out of the house' approach to parenting but, with classes cancelled and friends out of reach, I'm having to get creative. I've never been one for arts and crafts. It seems a lot of effort when the only apparent gain is a badly painted thingummyjig of no earthly use to anyone. But now, I need to think outside the (cardboard) box.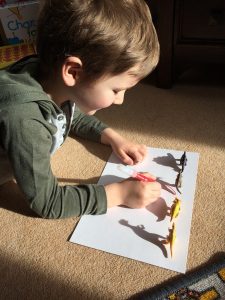 I asked my four-year-old if he would like to draw some pictures for his wall. He responded thoughtfully, "How much wall have I got?" His room is now adorned by toilet roll tubes with smiley faces, and I fear I've created a monster. I hadn't considered that James might actually love cutting and gluing, shaping and sticking.
As absolute beginners, we've been going old-school – I got outlandish satisfaction from my first decent paper aeroplane! Paper dolls and parachutes, shadow drawings and a spinning solar system, making jigsaws and taking fingerprints, there's no end to this stuff. I don't know what's happened to me – I'm scouring our cupboards for citric acid and string. I'm intercepting packaging before it hits the recycling bin and ignoring the paint streaks on our kitchen worktop. I've finally accepted the sheer impossibility of keeping a house clean and tidy when there's a child in it 23 hours out of 24.
Milk carton elephants, Stick Man, homemade bath bombs and bird feeders – they are all welcome. The green gloop and the erupting volcano we took outside. As I smoothed rainbow colours onto salt dough, sitting in a warming slant of sunshine, this childish occupation felt strangely soothing. Who knew being crafty was so satisfying? I'm finally one of those mums who Googles 'cardboard box robot' and doesn't flinch at the results. I guess it's not just the kids who are learning something during this strange period of our lives.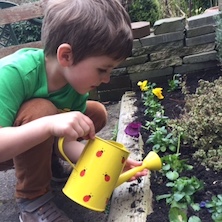 If you would like inspiration from the art world, National Galleries of Scotland has developed a creative curriculum where five new activities are posted every Monday for children of all ages. Tate also has a great selection of educational resources, with easy-to-follow information about popular artists, plus games, videos, and artwork chosen to stimulate young minds. James had a look and went all Andy Warhol on me, sketching cans of soup and bananas.
With so much 'home-schooling' chat circulating these days, it's easy to feel anxious regarding our kids' education. However, James doesn't even start P1 until August, so I'm dialing down the pressure. There are many websites with new content ideal for children, and James has been finding his favourites.
The Edinburgh Zoo live cams have been a success in our house, with the penguins providing plenty of amusement. Glasgow Science Centre At Home has been posting experiments on YouTube – James enjoyed learning about Mars, and if you've not watched 'Elephant's toothpaste' yet, it's a treat. Let's Go Live with Maddie & Greg is available daily at 11am and covers a different theme from science and nature each week. David Walliams' Elevenses continues to be popular; even after a few weeks James still asks for 'those stories about horrible children'.
By downloading the RBdigital entertainment app and plugging in your local library card number, you can access a wide range of audiobooks, magazines and ebooks, including a good children's selection. Oxford Owl is a lovely resource to support learning at home. And we've had success with the Bookbug app, which is sufficiently user-friendly for a youngster to operate, and allows them to create a personal playlist of songs and rhymes.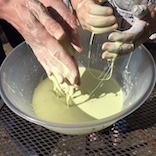 Baking has given James and me several hours of floury fun, and also helps keep us in snacks in between trips to the supermarket. Focaccia is perfect for little fingers to prod holes in, and cheesy biscuits make a nice change from the sweet stuff. We've also been growing our own food supply; we may not last long on cress and herbs alone but James will pass happy hours in the garden building up the muck under his nails. Scone Palace Plants Nursery is starting a delivery service of compost, seasonal plants, and vegetables. Glendoick Garden Centre is also taking online orders to deliver.
It's hard to evaluate the impact that social isolation, albeit temporary, may have on our children and their wellbeing. As has always been the case when raising a family, you need to trust in yourself and know that you're doing your best. Who knows how a curriculum of making cupcakes, watching livestreams and drawing on every available surface will affect my young son. I can only hope that his education won't suffer too badly; our slower pace of life certainly seems to suit him. After two weeks playing, growing, making and decorating at home, James told me I was his double-decker superstar, and that's good enough for me.